About San Mateo Kendo Dojo
Tuesday Practice: San Mateo King Center (map it)
725 Monte Diablo Avenue, San Mateo, CA 94401
(650) 522-7470

Tuesdays 6:30 - 8:45 pm

Saturday Practice: Spirit room of Foster City Recreation Center (map)
650 Shell Blvd., Foster City, CA 94404
Phone: 650-286-3380 Fax: 650-345-1408

Saturdays 2:30 pm - 5:00 pm
2:30 pm - 3:30 pm: Beginners class
3:30 pm - 5:00 pm: Advanced class for those who wear Bogu
History of San Mateo Kendo Dojo
Before World War II there was San Mateo Kendo Club, but due to the outbreak of the war, it was dissolved. In 1980 a few San Mateo boys started kendo practice at Mt View Kendo Dojo. From the wishes of the parents for need of San Mateo Dojo, and strong desire and dedication of Jiro Sakano 7 Dan sensei of Mt View Dojo and Tsugio Nakano 7 Dan sensei of San Jose Dojo, current San Mateo Kendo Dojo was established in 1981.
First practice was held on July 2, 1981 with 17 members participating at Bayside Jr. High School. Our dojo officially became the 9th dojo of Northern California Kendo Federation on January 1, 1982.
We celebrated the first anniversary tournament on October 10, 1982 at College of San Mateo. The 10th anniversary tournament was held at Hillsdale High School on October 13, 1991. The 20th anniversary tournament was at Capuchino High School on September 30, 2001.
As years passed we moved to several locations, such as Aragon High School. We celebrated the 30th anniversary on March 19 and 20, 2011 with the anniversary tournament and the luncheon. The current members had a great moment of reunion with many of the previous members. See 30th Anniversary photos from here activities.
Currently our practice is held at San Mateo City King Center thanks to Mr. Ajisaka's efforts, and we actively practice kendo as a part of City of San Mateo Parks and Recreation Department activities.
Addition to the regular practice on Tuesdays, San Mateo Kendo Dojo has expanded the practice on Saturdays 2013 in Burlingame. Due to the availability of the practice site, it was suspended at the end of 2014.
San Mateo Kendo dojo was chosen to perform kendo demonstration at Japan Expo 2014 in Aug. 24, 2014 at San Mateo Event Center.
San Mateo dojo re-starts Saturday practice in June 13, 2015 at San Mateo Senior Center. We are thrilled to add the practice again. We really appreciate the generous support from City of San Mateo and the Parks and Recreation Department to our activities.
Due to the availability of the facility, the Saturday practice was suspended after Aug. 22, 2015.
With the generous support of Foster City Parks and Recreation Department, we restarted Saturday practice as the part of their recreation activities. Starting on Saturday, Jan. 9, 2016, we additionally practice on Saturdays in the Spirit Room of Foster City Recreation Center between 2:00 and 5:00 pm.
Foster City practice Saturday Practice:
Spirit room of Foster City Recreation Center (map) (Re-start in Jan. 9, 2016) New Schedule: (addition to our regular Tuesday practice)
1:30 pm - 5:00 pm, Jan. 9, 2016 (Saturdays) 1:30 pm - 2:30 pm: Beginners class 2:30 pm - 3:00 pm: Kata Keiko for some limited students 3 pm - 5 pm - Advanced class for those who wear Bogu
Spirit room of Foster City Recreation Center (map) 650 Shell Blvd., Foster City, CA 94404 Phone: 650-286-3380 Fax: 650-345-1408 Age: 8 years & older (both youth and adult)
We celebrated the 35th anniversary tournament in March 13, 2016. It was a big success and we appreciate the participation and the help we received from all of the volunteers. See 35th Anniversary photos from here. Watch 35th Anniversary video from here.
On April 29, 2019 San Mateo Kendo Dojo filed the name change into San Mateo Kendo Dojo Inc.
On August 19, 2019 San Mateo Kendo Dojo Inc. was officially recognized as a Non Profit Organization 501(c)(3) of Title 26 of the Internal Revenue Code organization.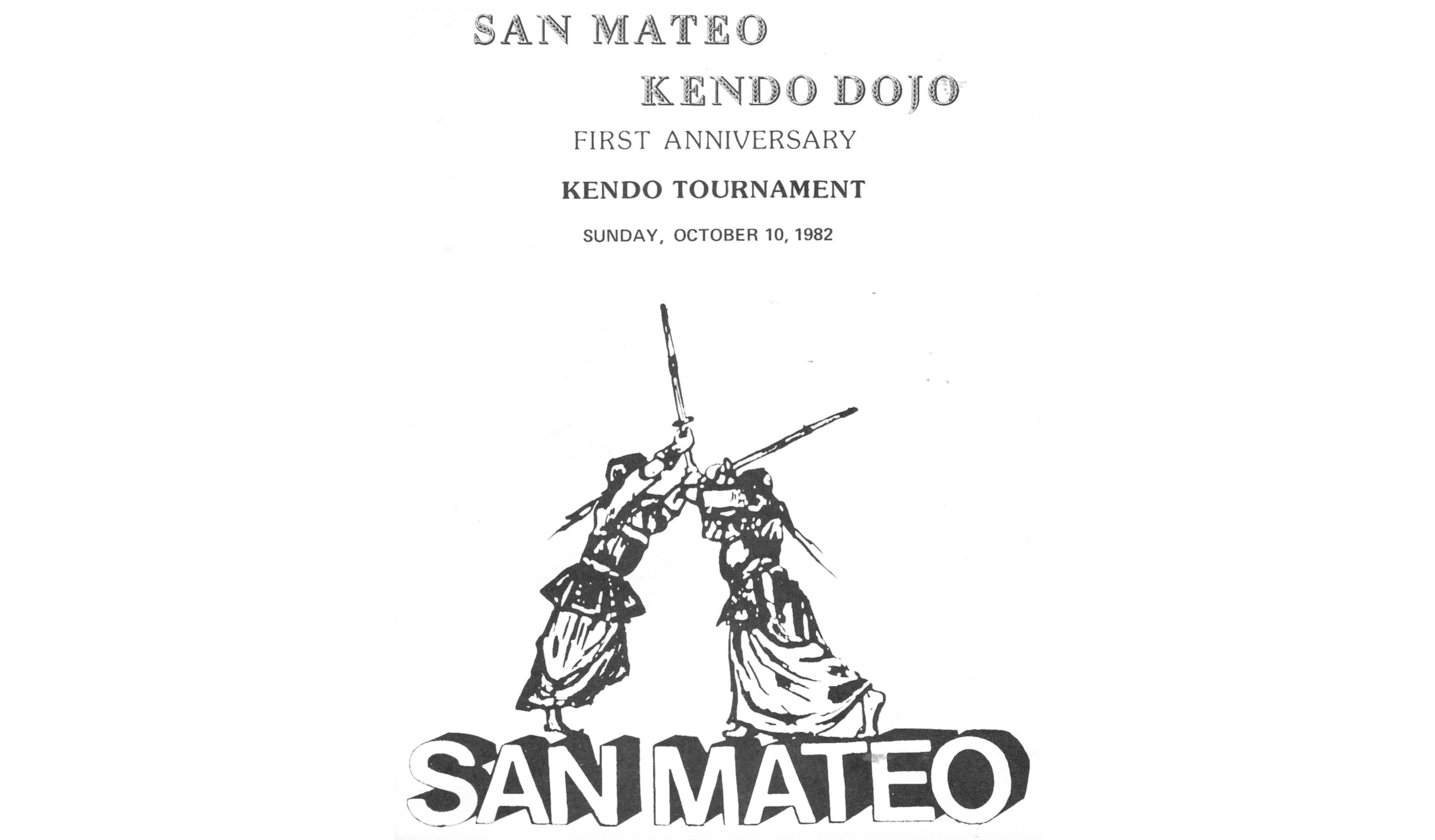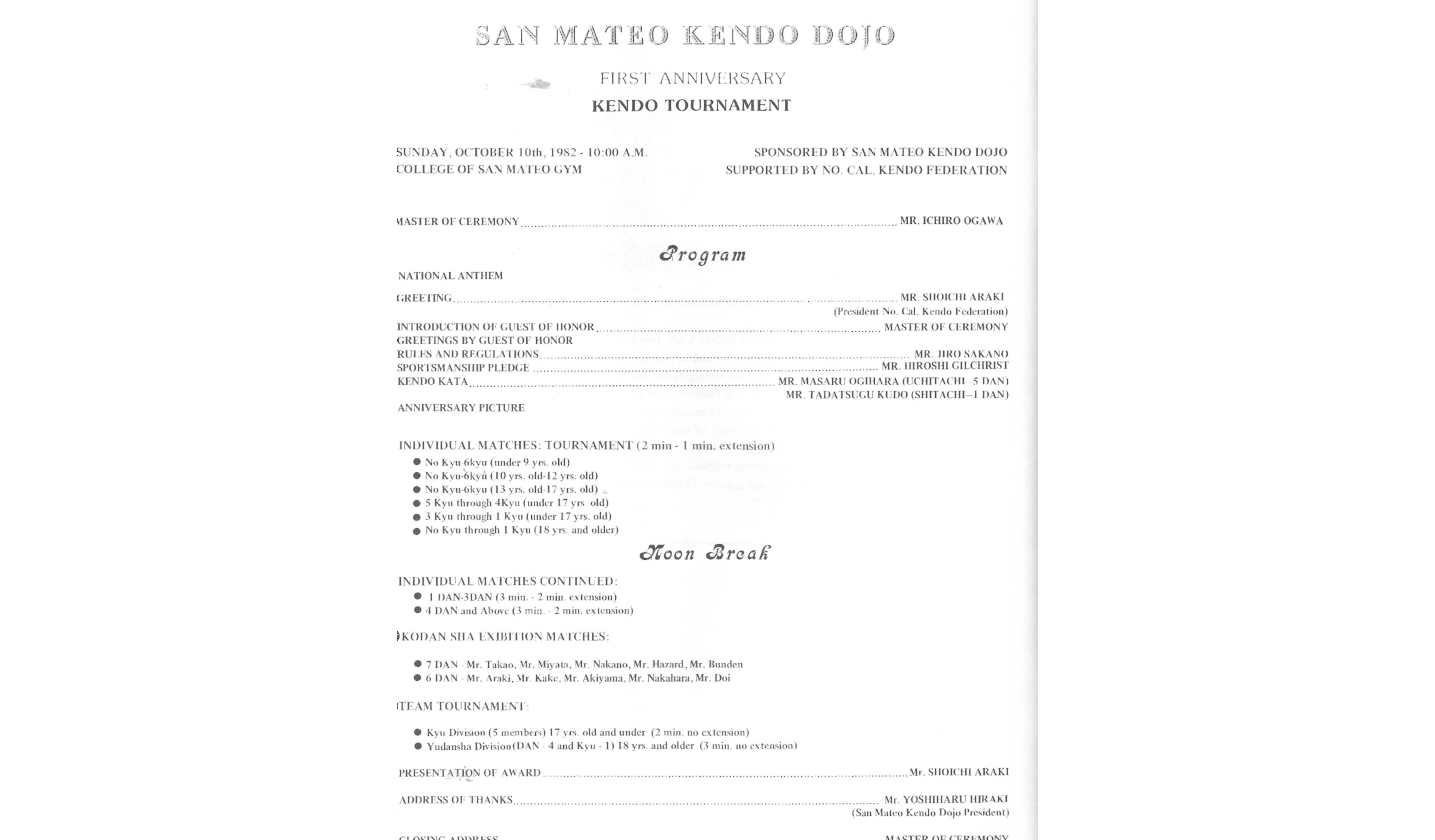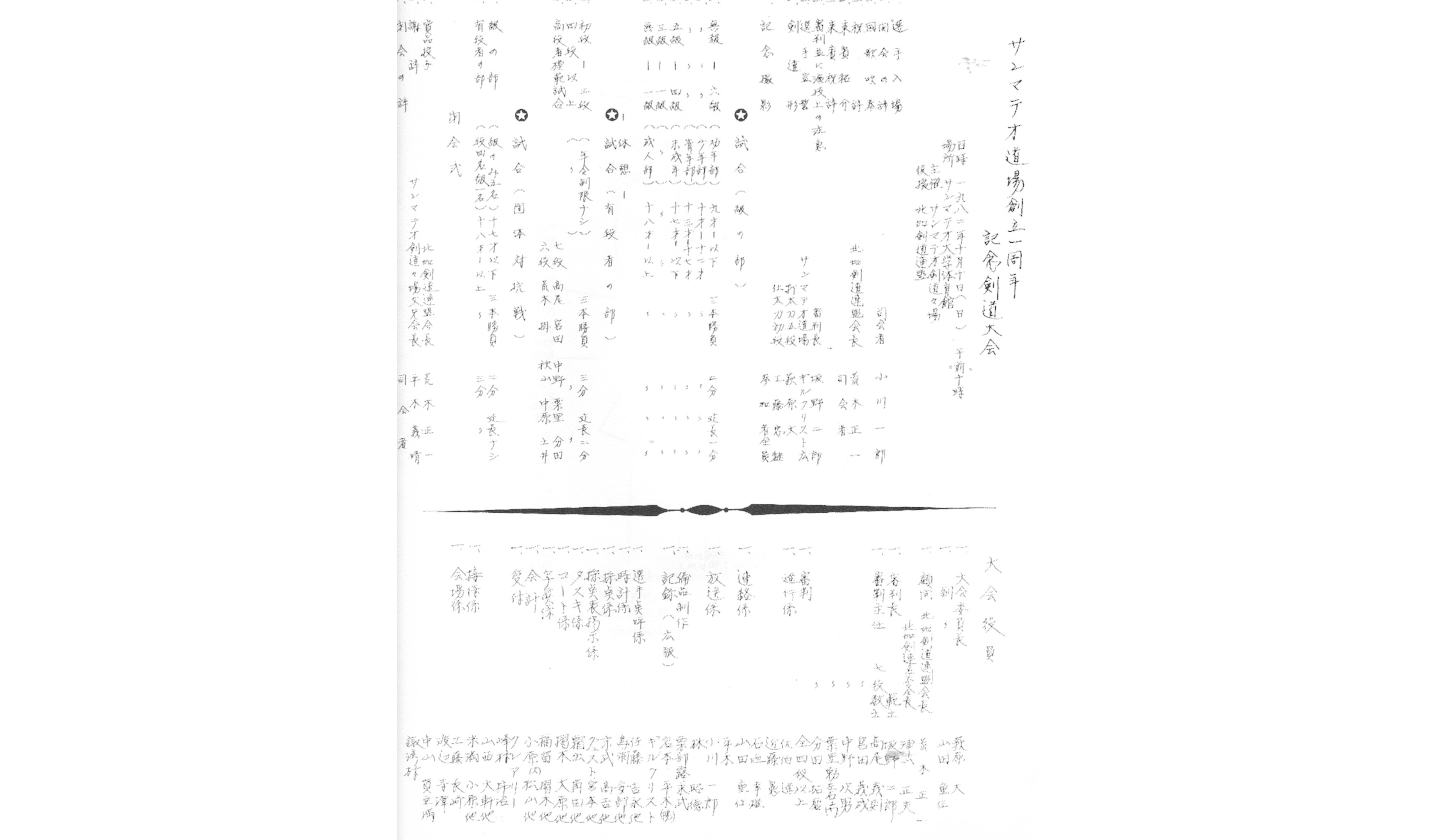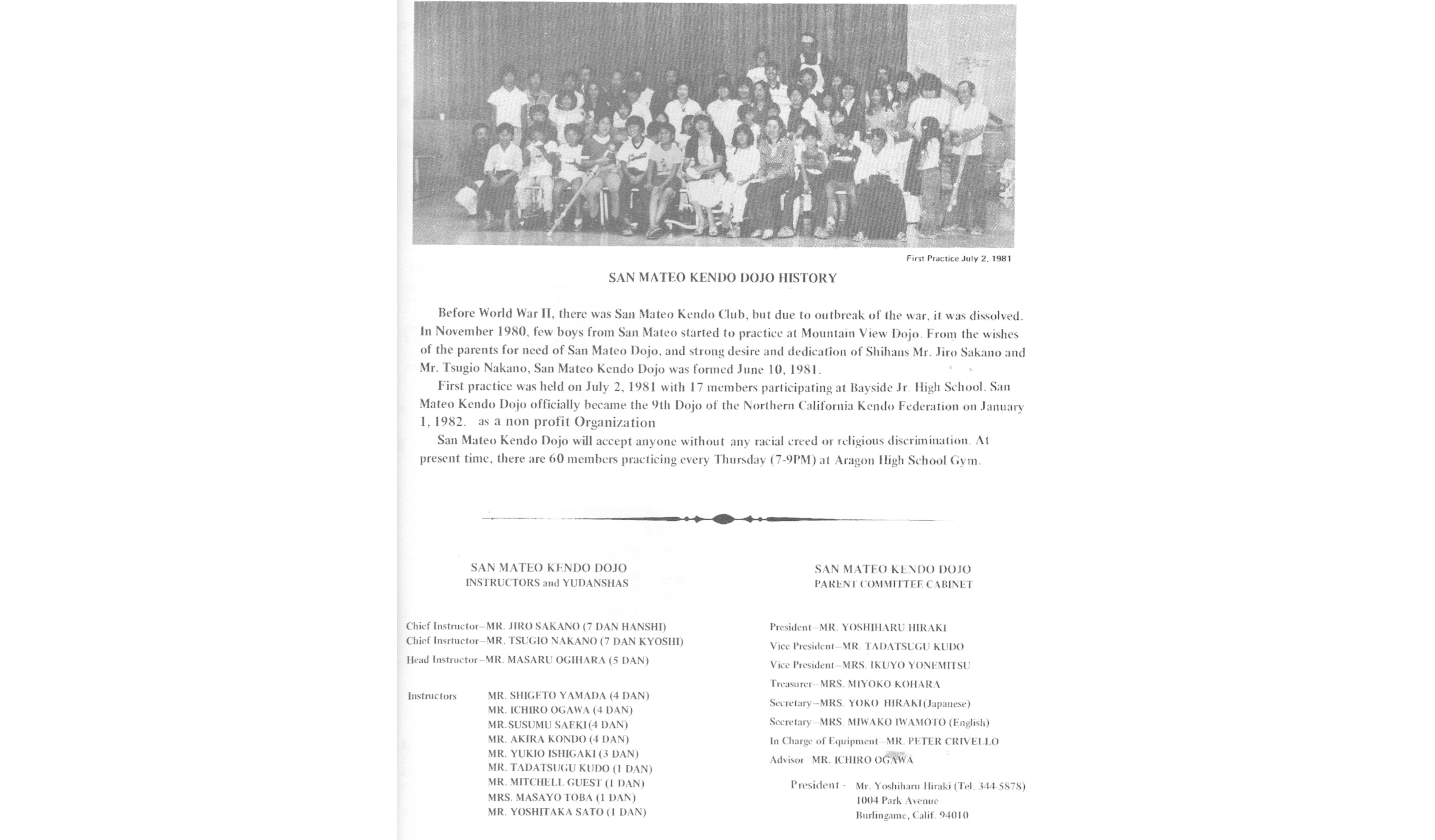 Pictures of San Mateo Kendo Dojo 1st Anniversary Tournament program
(Click photos to enlarge)